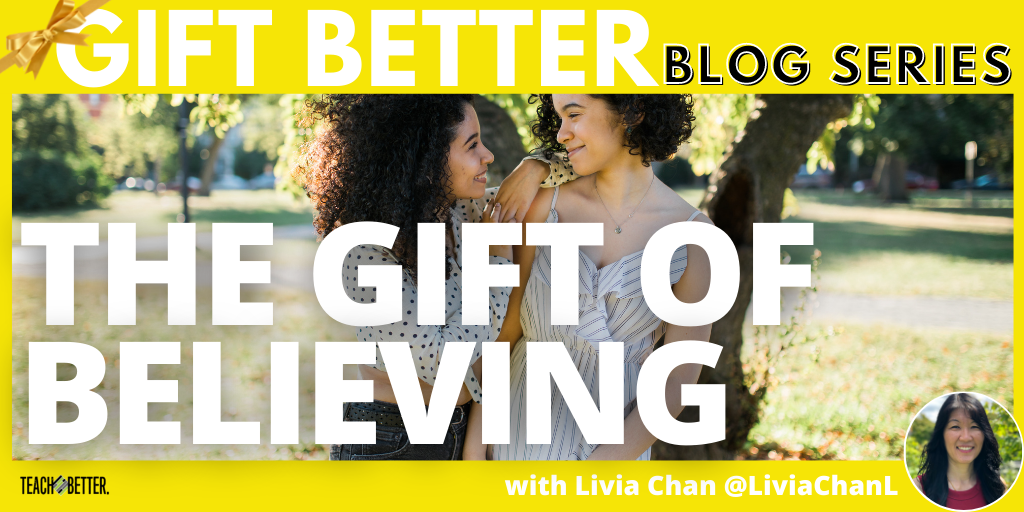 TL;DR:
The imposter syndrome is real for many of us.
Give your gift of believing in others. You have the power to change lives.
When someone believes in you, this is such a gift to receive. While we should have the courage and not need others to believe in us first, the reality is that sometimes we don't have enough courage UNTIL someone believes in us. It can be the spark that moves us along in our journey.
GIVE the gift of believing. Explicitly say, "I believe in you." Students need to hear that their teacher believes in them. It's in us to give. Tips on the gift of believing can be found below.
Believe in others until they believe in themselves. Then believe in them even more.

Livia Chan
Imposter in Me
There is an imposter in me. I bet there is an imposter in many of us. It seems to want to come out to play at times when I least want it to. "Not now!" I say during times when I actually need the courage to believe in myself and be my own biggest cheerleader.
I used to have thoughts like these more often than I do now. Don't get me wrong. They still come knocking but I'm now better able to keep them at bay when I acknowledge the thoughts of self-doubt and feelings of nervousness first. I quickly turn these feelings into excitement. (Apparently, the stimulus is the same between nervousness and excitement. Watch a short clip as Simon Sinek explains. I've been practicing this for years and it's really helped!) Then, I bring out my personal cheerleader and say, "I can do this!"
What's the secret to getting to this place of being able to push away thoughts of being an imposter?
Well, there's no secret. It takes time. It took others believing in me first along with some personal development and belief in myself. I used to think…"I am just a teacher. Who am I to (fill in the blank)?" Now I think…I am just sharing my story. It's my message. No one knows my story better than I. The imposter and all.
Listen to Messages
Pay attention to what you see and hear all around you. What are the messages you receive from others explicitly and implicitly? Are you given a vote of confidence through their words or actions? Are you given opportunities not offered to others? These are all things to pay attention to. Why? Because it means they believe in you! That has to mean something!
The Gift of Believing in Others
June 15, 2020, just over a year ago, marked a most memorable day. It was the first day that I had some dedicated 1:1 time with Jeff Gargas and Rae Hughart. We recorded an episode for the Teach Better Talk podcast!
Exactly three months prior, Jeff reached out to ask me to be a guest on the podcast. Before I said yes, I spent some time checking out the Teach Better website. I was so impressed with all of the things they had to offer and just could not believe that he wanted to talk to ME! I actually thought it was a hoax at first.
At that time, I was still relatively new to Twitter. I remember having approximately a couple hundred tweets and even fewer followers. I looked at how many followers Jeff had and how many people he was following. Enter imposter syndrome. Confusion. Wow, why on earth did he ask me if he follows that many people around the world? Yikes, what do I have to share? And…what exactly is a podcast?
What a gift Jeff gave by asking me to be a guest. It was the most genuine gift of believing in me. It sparked my inner passion to share beyond my own district, so I bought my own domain name, livchan.com, thanks to the encouragement of George Couros from a keynote in 2016.
Then I was asked to be an Ambassador for the team. So this, coupled with my earlier story, truly boosted my confidence. Since then, I have been on a number of podcasts, Facebook lives, invited to write vignettes or chapters, and now have a book contract to co-author a book, and officially joined the Teach Better Team as the Digital Content Editor. Each time I was offered another opportunity, it was another gift of someone's belief in me.
One simple out of the blue first contact DM from Jeff Gargas asking me if I have any interest to be a guest on Teach Better Talk led to belonging to the most welcoming teaching community with such a strong and deep feeling of family. If you are connected to the Teach Better Team, you know what I'm talking about because you experience it too! (A deep gratitude for Jeff, Rae, and so many others in my PLN like George Couros too for your continuous belief in me and offering opportunities beyond what I could dream of pre-pandemic!)
All of this happened since the pandemic hit. All of this happened because one person saw me and believed in me. ONE person can make all the difference in someone's life…to open the door to possibilities. That is the gift of believing in others. And it's because others believed in me first, I began to believe in myself.
These opportunities were the spark that ignited a passion inside of me that has opened so many doors and has me feeling joyfully alive every day.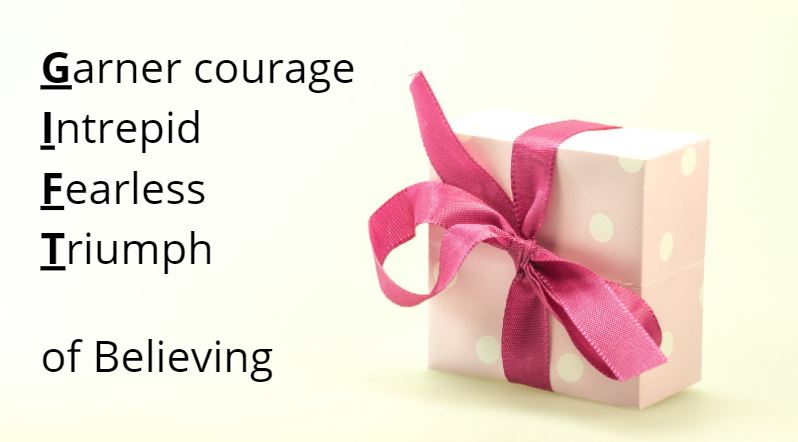 RECEIVE the Gift of Believing
When someone believes in you, this is such a gift to receive. Yes, we should have the courage and not need others to believe in us first but sometimes the reality is that we don't naturally have enough courage UNTIL someone believes in us. Have you experienced this gift of believing from others? It is truly an empowering feeling, isn't it? If you have, you may have thanked that person shortly after but for some of you, it may have been years ago so may I encourage you to share your gift of gratitude again. Share with them how their belief in you has changed your life. For many of us, we have that one teacher who made a difference. Have you heard of the story of Mr. Jensen? Who is your Mr. Jensen? Reach out and let them know.
GIVE the Gift of Believing
One of the greatest gifts a teacher can give to students is to believe in them. Last year, I had a student, Kiana Sosa, who wrote a story that was entered in our District's Word Writing Project, which is a contest that celebrates student writing. It took some convincing before she let me enter her story. I poured my belief in her and she eventually agreed. Later when it was chosen to be included in the 2019/2020 anthology, the celebration was canceled due to Covid so her mom helped her publish the book on Amazon as a way to honor her story. More than a year later, she sold over 1100 copies with over 1000 e-downloads. Read an article about her here.
I have seen such huge improvements and steps taken by students when I not only tell them but show them that I believe in them. Know that you have the greatest opportunity to make an impact just by believing in them and seeing their potential before they see it for themselves.
Tips for the Gift of Believing
Have quotes or personal statements as go-to reminders when you feel the imposter syndrome or need your own cheerleading.
Challenge yourself or others to "Fake it until you become it." – Amy Cudd (Ted Talk)
Simply make it explicit. Directly say, "I believe in you. I know you can do it." Do not underestimate the power of your words. You can truly empower others with genuine words. I have had many blessings to see eyes light up, shoulders fall back, and big smiles land on faces by making my belief in them explicit.
Add some imagination! When I see that students lack the necessary belief in themselves but I know they can do it, I hold my hands out as if I'm holding an imaginary gift. I ask them to take it and "open" it. They always ask, "What is it?" and then I tell them it's a gift of confidence and I KNOW they can do it. Alternatively, I give them an imaginary pill to swallow. When they swallow it, they ask, "What is it?" and then I tell them it's confidence! It's worked wonders!
Students need to hear that their teacher believes in them. It's in us to freely give.
Mindful Moment
In my many years of teaching, I have truly benefited from others believing in me. The messages shared have helped me see how others see me and perhaps how I should see myself.
It's easier to believe in yourself after someone else has believed in you first.

Gabrielle
When you receive a gift of words from others that demonstrates their belief in you, breathe it in and let it sit in your heart. These are the gifts you bring to the world around you. These are your strengths. I highly recommend you record them so you can refer to the words others used to describe you. I now keep a digital file of these messages. It is my go-to place for inspiration when I need it.
Gift Better Challenge
Next month, I will speak about the gift of caring. Until then, here are some ideas for this month's challenge. Pick one or pick all:
Begin to pay attention to what people tell you and see it as a gift of words. When others pay you a compliment that demonstrates their belief in you, don't diminish it by brushing it off. Accept their gift of words graciously and just say thank you.
Notice others that may need a small or BIG boost of confidence. Send them a message and tell them you believe in them and offer your support.
If we have not connected yet, I am looking forward to meeting you. Feel free to DM me on Twitter. Let's chat! I'd love to hear what resonated with you so you are welcome to fill out this form. I would absolutely love to hear your story of how your life changed because someone believed in you. I am grateful for your time and appreciate you for sharing your much-valued thoughts.
With a heart full of gratitude, Livia