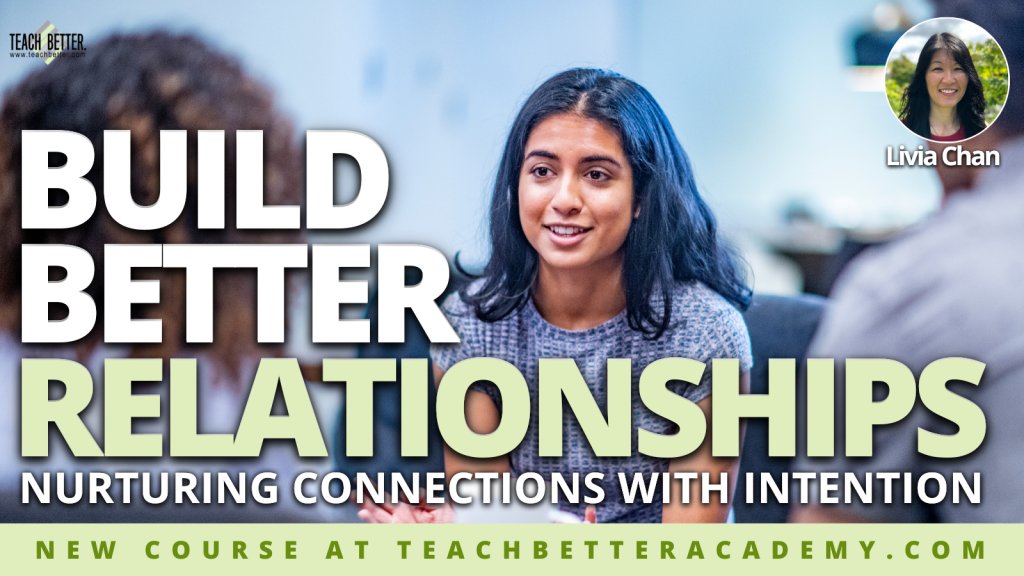 What is the greatest, most impactful key to success in our role as educators? Relationships, relationships, relationships!
It's profoundly foundational! And it begins with YOU. The relationship you have with yourself is the most important one to build from. Stemming from that is your part in how to quickly establish rapport, cultivate connections, and deepen new and existing relationships.
Regardless of whether you are someone at a new place of work or have been where you are for over a decade or two, this course is for you! All relationships can grow when you know how to nurture them! In order to have productive and effective learning communities with our colleagues, investing in our relationships is a MUST.
Enroll in this course to learn tried, tested, and true tips and strategies to build better relationships!
Watch a replay of Livia speaking with Rae Hughart about the launch of this course!
Within this course, you will learn how to:
Become aware that the most important relationship is with yourself first
Learn about the types, purpose, and characteristics of relationships
Discover ways to quickly establish rapport as the first step in building effective relationships
Learn the essential skills on how to develop and maintain positive relationships
Leave with strategies to grow relationships to a deeper level
Gain an understanding of how to repair relationships
Included in this course
42 Video Lectures
8 Digital Download Resources
Official Certificate of Completion
Digital Badge to show off your awesomeness
---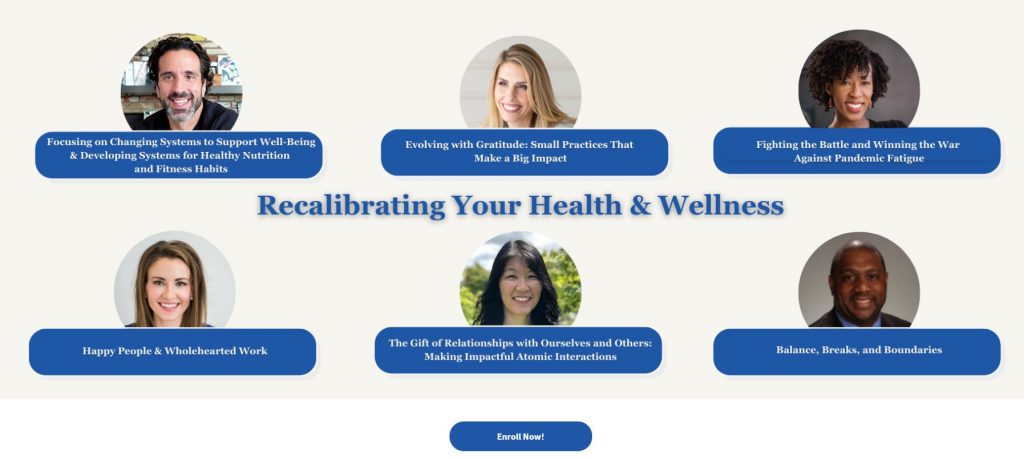 A course developed by George Couros and friends. Launched: January 22, 2022
My module – The Gift of Relationships with Ourselves and Others: Making Impactful Atomic Interactions (Module #5) In this module, I introduce a new phrase "atomic interactions". Through atomic interactions with myself, I am able to better manage emotions, thoughts, and feelings and improve my own mental well-being and self-care.
CLICK HERE TO GO TO THE COURSE
About This Course
The seven modules that make up the course, Recalibrating Your Health & Wellness, work through strategies and resources to help you build habits and develop strategies that can improve your overall well-being. Regardless of where you are now and what you do professionally, George Couros, Livia Chan, Dr. Mary Hemphill, Meghan Lawson, Lainie Rowell, and Evan Whitehead will help you:
Improve your well-being
Move you from self-care to self-aware
Equip yourself with skills to express and amplify gratitude
Empower yourself to find more balance in your life by creating boundaries and taking breaks when you need them
Reduce your stress levels
Support yourself in building a stronger relationship with yourself
Ultimately, these modules will help you find your own compelling reason!
---
I am passionate about writing and sharing tips & strategies to help you become a better writer. The ideas in this course stemmed from years of tried, tested, and true strategies for teaching writing to students and presenting these ideas as a Learning Technologies Helping Teacher on our District Staff Development Team. Feedback from participants often included comments like, "I used this the next day and I love it!"
To learn more about why writing is my passion, read my blog post called The Gift of Your Words: Share Your Story.
About This Course
Thoughts swirl around in your head. Ideas come and go. Personal journaling is a great way to transform those ideas, thoughts, and feelings into words. You, though, have a greater desire to share your story as you reflect on experiences and expertise. You want your voice amplified but there's some hesitation. Or you already blog and have a desire to be just a little BETTER in all aspects of the whole writing process. Does this sound like you?
In this course, join Livia Chan and Kari Pitstick as they explore the 5 W's of writing and understanding yourself first. Then dive into a multitude of tangible tips and takeaways for things to consider BEFORE, DURING, and AFTER you write. Learn about a writing framework to BETTER understand the thought process as you write. You're not done just yet! After your work is published, discover effective marketing strategies to share your published work!
ENROLL NOW for access to a comprehensive list of tips and strategies for improving your writing and marketing your work!
Within this course, you will:
Discover the 5 W's of writing & understanding yourself
Learn 5 writing tips BEFORE you start
Dive into 5 things to consider BEFORE you write (generation & recording of ideas)
Dive into 7 things to consider DURING writing (tangible tips)
Dive into 3 things to consider AFTER writing (revision stage)
Explore 7 ways to market your work once published
Included in this course
DYRIO Reminder (PDF Download)
Heart Map Worksheet (PDF Download)
Writing Thought Process (PDF Download)
43 Video Lectures
Official Certificate of Completion
Digital Badge to show off your awesomeness
---
Guest Blogger Orientation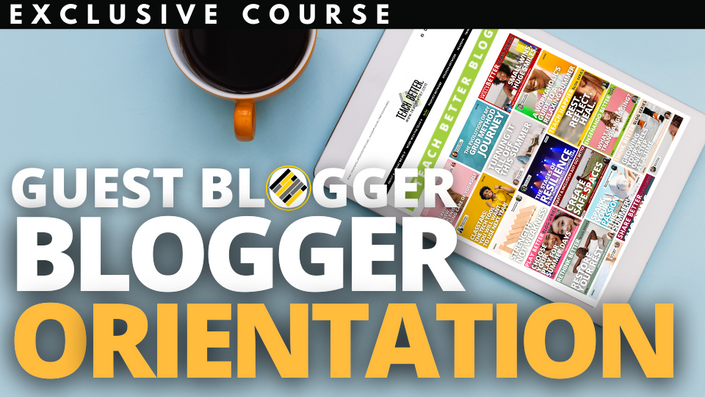 About This Course
In this course, join Livia Chan and Kari Pitstick as they explain the life cycle of a guest blogger's blog post and offer some writing tips and tricks along the way. What happens to your blog post once it is submitted for pending review through to it being published? Learn how to effectively navigate in WordPress.
This course was created exclusively as an orientation for guest bloggers on the Teach Better Team. It is not available to the general public. Join our blogging team to take this course!
Included in this Course
27 Video Lectures
Official Certificate of Completion
Digital Badge to show off your awesomeness
Cost: FREE as a guest blogger