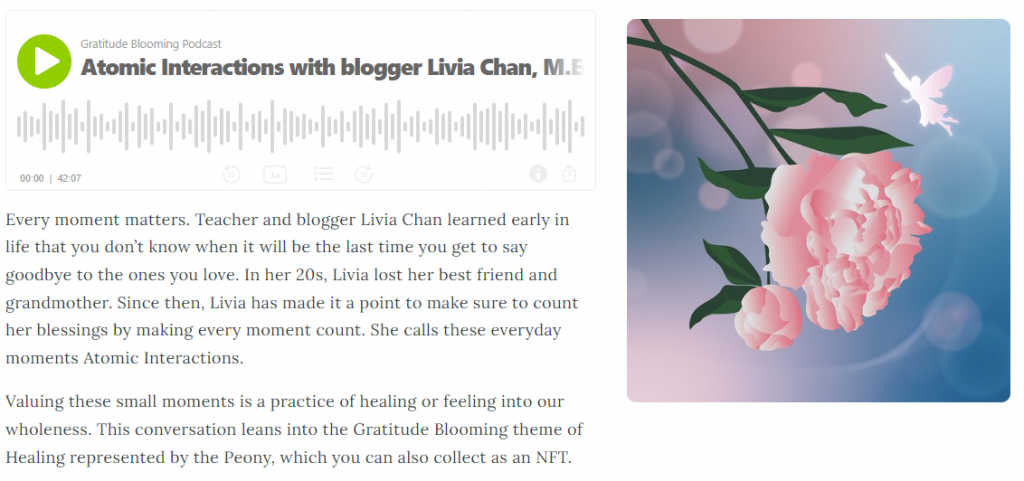 In every atomic interaction, we have an OPPORTUNITY to intentionally UPLIFT others through our love, kindness, and gratitude to help make their day a brighter one.
This is a message that I share often. Why? I believe it to the core of my being and aim to live like the change I wish to see in the world.
I am passionate about making connections…the kind of connections that make imprints on hearts and a lasting impact in lives.
When I cultivate and experience these kinds of connections, my heart sings the most beautiful songs. In the classroom, I have the greatest joy to spend time with young children who fill my heart with love, warmth, and passion as we have fun learning together about ourselves, each other, and the world around us. I get to be in my element! What a blessing and an honor to have the privilege to be their teacher to guide, support, and lead them to be better people. Their smiles and hugs are the best too! Simply priceless! (My friend, Mark Horner, calls these "bonus checks"!)
The importance of connections goes beyond my world of education. It includes my roles as a family member and friend, a ringette coach and player, and in every circle I find myself in virtually and in person. When I leave these spaces, I want to have left it better than when I entered by being friendly, listening respectfully, showing gratitude, and uplifting others with warmth and kindness. My belief in making every atomic interaction intentionally count goes across all realms including the special relationship I have with myself.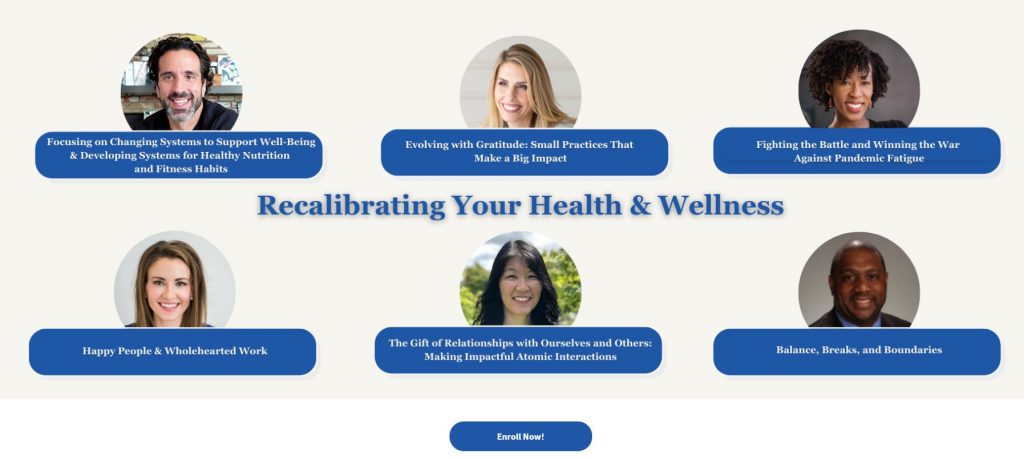 Gratitude for Inspirational Souls
As an avid podcast listener, reader, and learner, there are many moments when I come across inspirational people who share messages that directly make imprints on my heart and expand my mind with enlightenment.
One such person is Simon Sinek. As I listened to his podcast, A Bit of Optimism, one of his guests, Omar Brownson, spoke eloquently about gratitude as a way to find peace [Episode 44]. I don't always dive into the work of guests on podcasts but something tugged at my heart when I heard his story so I dove right in.
Gratitude Blooming Podcast
For me, gratitude is a way of being so I naturally gravitated to learn more from Omar's podcast, Gratitude Blooming, and excitedly leaned into his work with co-host Belinda Liu. The first episode I listened to was Episode 25 on forgiveness. I don't naturally think about forgiveness and gratitude at the same time. I was hooked!
They have a genuine vulnerability, authenticity, and gentleness as co-hosts who share reflective and insightful thoughts, honest feelings, and heartfelt stories. I highly recommend you add this podcast to your listening list!
The more I listened, the more I came to understand myself better. I evolved to gain greater alignment and attunement with my mind, heart, and body through a deeper appreciation of nature, different traits and themes, and heartfulness practices guided by Belinda.
I have been known to reach out to people, even strangers, who have made an imprint on my heart and an impact in my life. I was nicknamed the "Reacher Outer" by my good friend, Brad Hughes. (Highly recommend his podcast too! I was honored to be one of his guests on Episode 8.)
This is important to me because in my mid twenties, I lost my dearest grandmother and best friend. In both cases, I never got a last chance to tell them how much they meant to me, how much I truly appreciated them in my life, and how much of an imprint they made on my heart. So I do not want to feel regret in the same way again. Hence, I try to see every interaction as a gift of connection and a gift of love.
I thoroughly enjoy the opportunity to uplift, honor, express gratitude, and encourage others who are making a difference, like the many content creators who generously and vulnerably share. Kindness to others is a great practice of self-care. So, I connected with Belinda and Omar. Every interaction via DM, email, and Zoom has been a beautifully blessed gift of connection and gift of time. They make my heart feel so full of warmth and joy.
It was no different when we recorded for the podcast. They made me feel seen, valued, heard, and appreciated. I am so excited to share the episode with you!
It was such an honor to be in Omar and Belinda's presence. This episode is woven together so beautifully as they reflect on our conversation about the joy of teaching, my love for people, atomic interactions that amplify how every moment matters towards building better relationships, and a story about painted rocks that act as a physical reminder of love.
Listening to this podcast felt like a heartwarming gift of words to receive! Check out their website, Gratitude Blooming, and the other episodes too. They also have a deck of gratitude cards to spark deep conversation. They are beautiful hand drawn images by artist Arlene Kim Suda with different themes. I have been using these cards with my two young adult children at home. I am blown away with the matters of the heart that wouldn't normally come up in everyday conversations. I'm a big fan of all of these things!
If you find as much value as I have, please share with others. Their authenticity and deep dives have helped me become more grateful and in tune with my heart, mind, body, and the beauty and importance of nature. Listening has been a great way to practice heartfulness and mindfulness, which positively impacts well-being. Enjoy listening!
Take an opportunity
If you felt that something you read or heard on the podcast resonated, would you consider seeing that as an opportunity to reach out not just to what I shared but to other content you consume? In line with the theme of Gratitude Blooming's season 2: Collective Acceleration, sharing what you learned on social media is one way you can be a part of this movement. I have learned so much from others sharing links to articles and podcasts. I am the person I am today because of what I've learned from others. We are better and stronger together. Will you take part in this collective acceleration?
Learning from others is a gift. I trust the creators will see it as a gift of encouragement and appreciate your time to reach out. It's truly an opportunity to initiate a beautiful new relationship or deepen an existing one. The gift of connection is real. You may find yourself blessed in ways you may have never considered. Be courageous. Try it! I think you'll notice the release of "feel good" and "happy" hormones!
I appreciate hearing your thoughts and what resonated with you most. Please feel free to leave a comment below. Thank you for your gift of time to read my post and listen to the podcast. I love and appreciate you!
With a heart full of gratitude, Liv