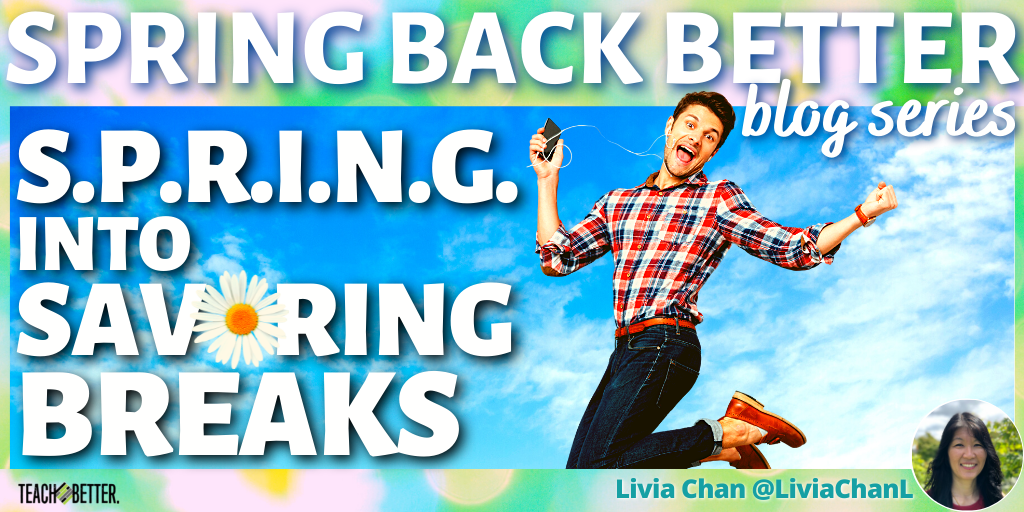 TL;DR:
Savor Breaks – Don't just enjoy your breaks but truly savor them!
Protect your time to take care of yourself by taking more breaks throughout your day.
Relationship – Know yourself and ask, "Is this serving me?"
Introspection – Dive into yourself, discover who you are, and how you best take care of yourself.
Nurture – Cultivate love, joy, and positivity.
Gratitude is a gift that is meant to be shared. Develop relationships by sharing gratitude as a way to savor your break.
When you have spare time, how do you spend it? How well do you know yourself so that you fuel your mind, body, and soul best?
I like to maximize my time. I try to be efficient by filling my time with things that inspire me to be better, make things better, or make the lives of those around me better. That essentially sums up how I live my life as someone who believes in uplifting others including myself. Yes, I need uplifting too.
I am an integral part of my life. I get to spend every second of every waking moment with me. And that is the greatest pleasure…to spend the rest of my life with ME! So I better take great care of myself by investing and learning about myself, building the best relationship I possibly can, and then being the best listener by following what my body tells me. Taking breaks and savoring them is a great way to take good care of my well-being!
I love acronyms and have since I was young. So as I reflect on my spring break, which I am right in the middle of as I write this, I'd love to share some ways of thinking that help me take care of myself not just during breaks like these but every day and on weekends.
Savoring Breaks
I often think of my niece whenever I see the word "savor" and smile because she knows how to savor! She isn't allowed sweets very often so when she gets it, she truly exemplifies the word. She eats her dessert s l o w l y…sometimes with her eyes closed. Everything about her face tells you she is in a state of delightful joy. She often finishes off her plate by licking it clean too. I'm sure I enjoy watching her eat dessert more than I enjoy eating it! She reminds me that we can choose how much we savor our precious time.
While it's not possible to live every minute like this, I do intentionally pause to take mindful moments to savor when I'm by myself and around others. I take a snapshot or a short video with my mind's camera so I can enjoy it then and play it back later to relive sweet moments of joy in my memory.
TRY IT! Practice mindfulness. Capture joyful Kodak moments with your mind. Go beyond simple enjoyment. Smile and savor it IN the moment. Later, press replay to enjoy it again and again anytime you want or need a break to relive that joy!
Savoring Breaks: Protection
When I was younger, I don't think I ever thought about protecting my time in the same way I do now. Being over half a century old, I see time differently now. I value it more. I protect it better. It feels more finite. I view time as a gift of opportunity to make a positive impact in people's lives and an imprint on their hearts.
There are actually many times over the course of a day that we can take breaks. How often do we hear people say that there is no time for this or that? The more we say we have no time, the more we believe that we don't. The time is there. How do we know? When things we value come up, we seem to find time. Where did that come from? We made time for it. We actually have more control over our time than we think.
Many of us have a lot on our plates, especially the more roles we have. The more responsibilities, the more things on our to-do list. Managing it all and finding "balance" is an age-old question. During super busy seasons, being disciplined to stop and take short breaks throughout my day helps me persevere. It's how I protect my energy, mindset, and positivity. The more I can mindfully savor these breaks, the more energy I have to thrive through the next part until my next break. Sometimes, it's as simple as looking out the window for two minutes to admire the trees and feel gratitude for the safe place I live.
During longer breaks like weekends and spring break, I cherish and protect how I spend my time. What I used to call doing "nothing" is now seen as doing "everything" to help me feel relaxed, restored, and rejuvenated. Changing the language and my mindset about doing "nothing" changes the importance. I place a strong value on ME time and see it as a meaningful way to protect my heart and well-being. Oh so important if I am to be the best person I can be to serve others in my many roles!
TRY IT! Take time to learn what works best for you. What brings you back to feeling centered? Take more mindful breaks throughout your day and view them as an impactful way to protect your well-being.
Savoring Breaks: Relationship with Self
My friend is diabetic. She was just telling me on the weekend that she knows her body. When she is high or low, she knows exactly what she needs to do in order to feel better. In the same way, I have learned to listen to my body and mind. When I feel stressed or upset, I pay attention and stop to listen to how I think and feel. I can certainly be an overthinker but for the most part, I learned a few ways to control it. I discovered some quick and simple ways to overcome those thoughts to feel better.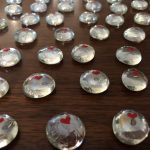 One way is to stop and take a break to ask this moment-altering question, "Is this serving me?" This has been a game-changer! Another way is to have visual reminders in many different places to guide me back to my purpose in life which is the same visual reminder I use to protect my heart. So I am able to protect my time and protect my heart better than I ever have before.
A few weeks ago as I was leaving the house for school, I noticed one of these glass beads hidden by my keys. It made me pause to savor the moment. I took a deep breath in and marveled at what I originally created for students as a visual reminder of my love for them, turned out to be the perfect visual reminder I needed to start my day right. It reminded me of why I love what I do. So off I went with a happier mood and more joyful heart excited to see my students.
TRY IT! The next time you feel stressed or find yourself in a negative headspace, acknowledge those feelings first. When you're ready, then ask, "Is this serving me?" Protect your heart, practice self-compassion and self-love. Make yourself feel better.
Savoring Breaks: Introspection
It sounds easy enough to say. Make yourself feel better but how? You have to truly know yourself.
For the past couple of years, I spent time deeply investing in myself by learning from personal development gurus. I have a much clearer picture of who I am, what my strengths, values, and beliefs are, and how to take better care of my mind, body, and soul. As a result, I have more clarity on how things make me think and feel, how I choose to respond, and how I choose to spend my time.
Sometimes, I really enjoy peace and quiet so I can be alone with my thoughts and feelings. This time is precious because I get to invest in myself. Other times, I can often be found listening to an audiobook, podcast, or replay of a live show when I cook, clean, brush my teeth, or wherever I go. Why? I have a passion for learning so I love to maximize my time to learn how to become a better person personally and professionally.
So when I have time to take a break or when I need to give myself a break, I know how to get back to feeling right much quicker than ever before. Because I invested the time to discover it, I can intentionally and mindfully savor my breaks.
"Your relationship with yourself is the foundation for everything in your life."
– Mel Robbins, The High 5 Habit
TRY IT! Take some time to record your strengths, values, and beliefs. Then take some time to record activities that really help your mind, body, and soul feel better. When you need to take a break, you will know what truly helps you savor your breaks.
Savoring Breaks: Nurture
I work towards cultivating love, joy, and positivity because I know how much better it makes me feel when I focus on these things. I see relationships as gifts. In my interactions with others, including myself, I aim to nurture love, joy, and positivity through kindness, gratitude, and empathy. For me, it's self-love and self-compassion.
So in order to truly savor my breaks, I need to be in a place where I am true to myself and what I value and believe in. We need to create the kind of breaks that will truly nurture our well-being.
TRY IT! Dive into what would best nurture your well-being during breaks.
Savoring Breaks: Gratitude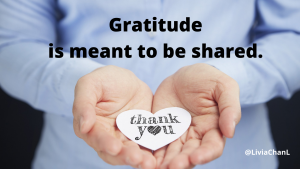 "Gratitude is meant to be shared." This is a statement I share often and a mantra I live by. Gratitude is a gift so when I feel grateful, it's something I enjoy giving to others. Who doesn't like receiving gifts? The gift of words is one of the best heartwarming gifts to receive! It's a great way to show kindness and uplift others at the same time. And truthfully, by uplifting others, I am uplifted too. Sunshine is limitless. Your gratitude can make an impact and brighten someone's day.
So when I take a mindful moment to take a break, one of my go-to strategies to savor my break is to reach out to someone to thank them. It could be a handwritten happy note, a quick text to a friend, or a check-in to let someone know I'm thinking of them. These messages don't always have to come with an expression of gratitude but it certainly comes with a grateful heart.
As I savor my breaks, gratitude is not far behind. The deeper appreciation in my heart for moments to pause, the greater I can savor my breaks.
TRY IT! During one of your short breaks throughout your day, reach out to someone placed on your mind. Give them your gift of uplifting words. Tell them you were thinking of them and how much you appreciate them in your life.
Believe that through continuous
Replenishing of your mind, body, and soul
Everyone can learn to
Appreciate the love, care, and
Kindness you deserve for yourself.
Savor your breaks!